Panel Discussion: Strategic Planning of Local and Regional Development in the Republic of Serbia - Lessons to be Learned for the Future
Project start: 12.2011. - Project end: 12.2011. FinishedProject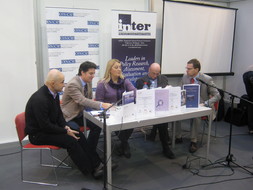 The panel discussion was organised by InTER, with the financial support received by the OSCE Mission in Serbia, while National Agency for Regional Development provided the room and the time slot in the fair programme. The panel was held on 2 December 2011 at 11h, as a part of the program of the second day the 10th International Fair of Entrepreneurship "Business Base".
The panel gathered five eminent experts in the field:
Prof. Blagoje Paunovic, professor of the Faculty of Economics at the University of Belgrade;

Aleksandar Marinkovic, Coordinator of Strategic Planning at the Standing Conference of Town and Municipalities;

Biljana Stankovic, Director of the Centre for Development of Jablancki and Pcinjski districts;

Tomislav Novovic, Strategic Planning Expert;

Dragisa Mijacic, Director of InTER and Strategic Planning Expert. Mr. Mijacic had also a role of the moderator of the discussion.
The discussion started with presentation of the panellists to the audience. Then, the panellists reflected on the history and legal framework for strategic planning in Serbia. The panellists further debated on the scope of planning at the local and regional level, as well as on the applied methodologies during the planning process. The whole course of the discussion focused on lessons to be drawn in the subsequent cycles of strategic planning in the Republic of Serbia. At the end of the panel about 30 participants were given the opportunity to pose questions to panellists.

The panellists agreed that strategic planning is important at local and regional level. Although the strategic planning has been initiated and largely supported by the donor community in Serbia, in majority of cases municipalities took the ownership over the process and changed their behaviour and attitudes towards the developmental planning. The panellists emphasised the necessity for harmonisation of national, regional and local strategies. Secure financial instruments for implementation of the strategies are also noted as crucial for the achievement of the development goals. Cooperation between public and private sector, including cooperation with civil society organisations, needs to be improved in the future. It was recommended to the municipalities and regions to apply best practices and lessons learned in the subsequent cycles of the planning.
After the panel, InTER organised a cocktail in front of its stand, where the panellists and other participants had the opportunity to get familiar with the work of the organization and content of the exposed publications and research papers.