InTER presented research proposal in the first TRAIN Programme seminar in Zagreb
Release date: 21.05.2013.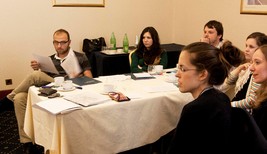 InTER's researcher Jelena Šapić presented research proposal "Impacts of the customs and IBM agreements between Kosovo and Serbia on bilateral trade exchange and freedom of movement" in the opening seminar of the TRAIN Programme 2013 organised in Zagreb on Alril 14-17, 2013.
InTER is conducting the research in cooperation with the Group for Legal and Political Studies (GLPS) from Priština. InTER and GLPS will jointly conduct the research on results of the agreement on personal documents, license plates and tax documents signed between Serbia and Kosovo, as well as their impact on trade exchange and freedom of movement.
Apart from presenting their research topics, participants also had an opportunity to jointly discuss and exchange experience in the fields of developing policy briefs and advocacy.
TRAIN program is implemented by the German Council on Foreign Relations (Deutsche Gessellschaft für Auswärtige Politik) from Berlin and it includes support to research organizations from the Western Balkans in conducting policy analysis with impact on European integration. Apart from InTER and GLPS, participants of this year's TRAIN Programme are also the following research organizations from the Balkans: Analytica (Macedonia), IDM (Albania), IDSCS (Macedonia), GONG (Croatia), MANS (Montenegro) and Zašto ne? (Bosnia and Herzegovina).
The next seminar within the TRAIN Programe will take place in Berlin on June 25 – 29, 2013.
2013 TRAIN Alumni
2012 TRAIN